The D – 352 HYBRID (halogen free)True transmission technology * Hybrid design * Halogeen free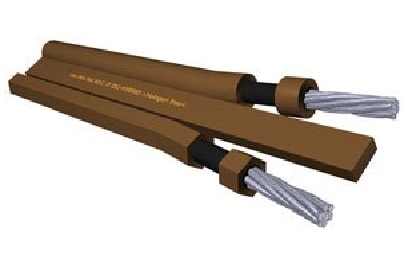 This twin lead brown metallic colored speaker cable is designed to provide a very high transfer quality at a moderate price.
Each lead is made of 296 x 0.15 mm. Matched Crystal (MC) high purity OFC strands with a dense and very pure silver coating.
Covering the two conductors an extra layer saturated with Linear Structured Carbon ® is applied to improve the sonic performance and to transform the radiated magnetic field into an audio signal again.
The cable jacket is made of our HULLIFLEX ® 3, a very flexible and mechanically superb insulation material.
The resistance per lead is: 0.34 Ohm/100 meter.
Total metal cross-section area for each conductor is 5.23 mm², equalling AWG 10. The capacitance between the 2 leads is: 32.5 pF/meter.
The plus and minus leads are different in jacket-shape with printing in the flat middle section. Both properties are easy polarity-finders.
Type printing at 25 cm. (10″) distance makes cutting of specified lengths very easy.
Our 4.0 mm. Ø cable entrance diameter Bus type Universal Speaker Connectors and our DIY Screw-On Speaker Connectors are excellently suited for the D – 352 HYBRID.
Packing conditions: 50 meters per reel with a total shipping weight of 10.4 kg. incl. the packing box with external dimensions in mm.: 320 x 320 x 310.
The D - 352 HYBRID (halogen free)
The Sound & Vision Group Pty Ltd. (phono)
164 Lygon Ln, Carlton VIC 3053, Australië
VPI Industries (phono only)
77 Cliffwood Ave W #5D, Cliffwood, NJ 07721, USA
Cinema Focus (India) Pvt.Ltd.
New Decor Towers, Dr Radha Krishnan Salai, Sullivan Garden, Mylapore, Chennai, Tamil Nadu 600004, India
Alef Hi-Fi
1-Y Nagatinskiy Proyezd, 10, стр. 1, Moskva, Rusland, 115230
Ultimate Audio
R. Casquilha 2A, 1500-151 Lisboa, Portugal
Zesen Hi-Fi Company
Shantou, Guangdong, China
Roksan Trading Co. (phono only)
Hongkong, Kwun Tong, Flat B2, 12/F, Good Luck Industrial Building, 105 How Ming StreetKowloon, Hong Kong
Point International General Trading LLC. Dubai
Baniyas Street, Opp.Etisilat Tower, Dubai Creek - Dubai - Verenigde Arabische Emiraten
JWON Korea Co. (Audio cables)
70 Wonhyo-ro, Yongsan-gu, Seoul, Zuid-Korea
ODO Intonation
Minsk, Wit-Rusland
AVTEC Limitada
Sta. Verónica 741, Las Condes, Región Metropolitana, Chili
Kraske Electronics A.G.
Leonhardsgraben 52, 4051 Basel, Switzerland
B & T HiFi Vertrieb GmbH
Hauptstraße 27, 40699 Erkrath, Germany
Finest Fidelity Inc. (cables and electronics only)
3 Sagebrook Dr, Bluffton, SC 29910, USA
Casa Tentaciones
Adrian Jara esquina Regimiento Piribebuy, Shopping Hijazi, Cd. del Este 7000, Paraguay
Sky-C Solutions B.V.
Azorenweg, Willemstad, Curaçao
Solar Audio
Diagonal Norte 163, Mar del Plata, Buenos Aires, Argentina
HBD Audio Revelations
22 Retief Pl, Carrington Heights, Berea, 4001, South Africa
Sarl Equip Auto
Pape'ete, French Polynesia
Audio Active (audio cables)
90 Bridport St, South Melbourne VIC 3205, Australia
The Experts Private Group Limited – Malaysia Boutique Showroom
The Boulevard, Mid Valley City, Lingkaran Syed Putra, 59200 Kuala Lumpur, Wilayah Persekutuan Kuala Lumpur, Malaysia
The Experts Private Group Limited – Lavendar Street Boutique Showroom
161 Lavender St, Singapore 338750
The Experts Group Private Limited – B&W Millenia Boutique Showroom
9 Raffles Boulevard, Singapore 039596
PT. TEG Distribution Indonesia (The Experts Group)
Jl. Tanjung Duren Raya No.1, RT.11/RW.1, Tanjung Duren Utara, Grogol Petamburan, RT.11/RW.1, Tj. Duren Utara, Grogol petamburan, Kota Jakarta Barat, Daerah Khusus Ibukota Jakarta 11470, Indonesia
Woori Audio (Phono and electronics only)
610-9 Junggok-dong, Gwangjin-gu, Seoul, Zuid-Korea
Sounds Inc.
Cairo street, in front of Babel theater, Hamra, Salamoun Bldg, 1st floor, Beirut, Lebanon
Arama Audio
Moshe Sharett St 29, Rishon LeTsiyon, Israel
Royal Asia Corp.
No. 60, Minzu East Road, Zhongshan District, Taipei City, Taiwan 10491
Extreme Audio
Yol Mevkii Sheraton B2 Kat 34398, Maslak Mahallesi, Eski Büyükdere Cd. No:3, 34752 Şişli/İstanbul, Turkey
Kang Yong Company Ltd.
55/17-18, Phyathai Road, Thanon Phayathai, Khet Rajthavee, Bangkok, 10400, Thailand
SAIGON HI-END CO., LTD
8A Lý Thường Kiệt, phường 12, Quận 5, Hồ Chí Minh, Vietnam
Hi-Fi Magic
Kathmandu 44600, Nepal
Karma Digital Ltd.
Boryslavska St, 53, Kyiv, Ukraine
Digitalbild Sverige AB
Tellusvägen 9, 191 47 Sollentuna, Sweden
Big Bang
Šmartinska cesta 152, 1000 Ljubljana, Slovenia
Platan
M. R. Štefánika 261/12, 920 01 Hlohovec, Slovakia
Korato
Mileševska 66, Beograd 11000, Serbia
Stereomag.ro
Strada Vasile Alecsandri 14, București, Romania
Audio Marketing
Via del Meridiano, 38, 47895 Domagnano, San Marino
Mono AS
Østerdalsgata 1, 0658 Oslo, Norway
Alfa Audio
Skopje 1000, Macedonia (FYROM)
UAB "A CAPPELLA"
Aušros Vartų g., Pasažo skg. 5, Vilnius 01304, Lithuania
Balt Audio
Brīvības iela 169, Vidzemes priekšpilsēta, Rīga, LV-1012, Latvia
Samat Electronic Ltd.
Karasai Batyr St 88, Almaty, Kazakhstan
MPI Electronic Srl.
Via Edmondo de Amicis, 10, 20010 Cornaredo MI, Italy
Cloney Audio
55 Main St, Blackrock, Co. Dublin, A94 W4F3, Ireland
Zebraudio
Budapest, Trombitás út 26, 1026 Hungary
Exclusive Audio
Ioannou Apostolopoulou 59, Chalandri 152 31, Greece
Technology Science & Art
6 Allée Pier Jakez Helias, 77600 Bussy-Saint-Georges, France
AH-Hifisystems OV
Helletorpankatu 39, 05840 Hyvinkää, Finland
Mobicom Systems AS
Toompuiestee 18, 10137 Tallinn, Estonia
High-End Audio Studio
Belgická 278/4, Vinohrady, 120 00 Praha-Praha 2, Czechia
P.K. Digital Hi-Fi Ltd.
Ifigenias, Nicosia, Cyprus
Nove Boje Zvuka D.O.O.
Ul. grada Vukovara 52, 10000, Zagreb, Kroatië
TS Multimedia
ul. "Solunska" 39, 1000 Sofia, Bulgaria
Audio Tuning
Margaretenstraße 98, 1050 Wien, Austria
Decent Audio
Castlegate Mill, Riverside, Stockton-on-Tees TS18 1BZ, UK
Electronica Sarte Audio Elite
Carrer del Pare Jofré, 22, 46007 València, Valencia, Spain
Radioactiv
Kirkegade 150, 6700 Esbjerg, Denmark
Music2 Audio Import (Phono and electronics only)
Geestweg 40B, 2671 ED Naaldwijk, Netherlands
Audio System
Henryka Brodatego 3, 00-001 Warszawa, Polen
HNNY
Venkelbaan 29, 2908 KE Capelle aan den IJssel, Nederland